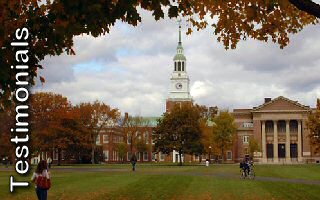 Wilner Education is extremely proud of the success we've helped our clients achieve. We are equally proud of the fun and self-discovery our clients find in the process of working with us, while pursuing their educational goals. Many of our clients have written to praise our work. Likewise our strongest source of new clients are from the recommendations of our past and existing clients. Those who have worked with us know that our primary compensation is leading great students to great futures.
The following are a few examples of the kind words our clients have expressed to us. We are grateful for the chance to work with such wonderful students and their familes:

My only regret is that I won't be working with you anymore. I'll miss you! Thank you for helping me get to my dreams at USC School of Cinematic Arts.

I'm slowly coming back to earth. Thank you so much for your time and effort. It's hard to believe how little I knew about the process only a few months ago. I also learned some valuable lessons beyond just applying to college. Your ideas and advice really made the difference throughout. As you know, no other school comes close to Georgetown for me - it's got everything!

Wilner Education helped me narrow down my college list to a manageable number of schools that I truly wanted to go to. The help I received in preparing for visits, interviews, and applications allowed me to present my strengths.

The process was very efficient, especially considering the time constraints present in my particular situation. The suggestions proffered in the application process were perhaps the most helpful advice. Columbia here I come! Thank you!

The suggestions made by Wilner Education allowed me to establish a relationship with those at the admissions office, thereby increasing my chances of being recognized during the selection process.

Wilner Education always provided convenient assistance. I felt that more than enough time was dedicated to my needs.

We think about you most everyday when we drop off or pick up our daughter at St. James. She loves it there and is doing very well. Its a terrific school and very good for her - so we are eternally grateful for your help getting her admitted to the place.

Wilner Education was very flexible and helpful. I felt that I could get advice at any time.

The help I received was invaluable and worth every penny.

Wilner Education helped me make sense of the college process. It could have been a confusing and daunting experience, but Wilner Education made it understandable and at times fun. I would definitely recommend it.

I have no complaints of any kind. I have, in fact, recommended Wilner Education to numerous people in the highest regards.

We couldn't have done it without you. Choate is a perfect fit. Our son not only got into his first choice school, but we managed to avoid the stress and family arguments our friends all went through. We think you are fantastic. Thank you.

You were so patient with me and helped me stay calm in the storm. I love the University of Pennsylvania and cannot ever thank you enough.